Apple iOS builds foundations in AEC
In the AEC industry, mobile devices have largely been perceived as fit for data consumption, viewing documentation, communication, or simple data input. However, as processing power starts to rival desktops and powerful new capabilities are added, this looks set to change. Apple's ecosystem seems to be the target platform for most new mobile developers, writes Martyn Day
---
When the iPad was first launched in 2010, it was really just a giant iPhone. It ran the same operating system, had the same processor and the same memory limitations as its smaller stable mate. If you were lucky, the application you wanted had an iPad variant which would make use of the bigger screen. It found a niche as a consumption device, ideal for web browsing, email and social media. Its professional applicability would take years to be realised.
Roll forward more than ten generations and twelve years of evolutionary design, and the Apple iPad Pro has changed beyond all recognition. It runs its own branch of iOS (iPadOS), shares the same system-on-a-chip silicon (Apple M1) as its MacOS desktop equivalent, supports a pressure sensitive stylus (Apple Pencil), offers fast Wi-Fi and 5G, comes in a range of sizes, has an operating system branch to itself, an XDR display, supports a file system, can connect to high data rate (40 GB/s) devices via USB C, supports up to 2 TB of storage, supports a keyboard and mouse, and has Augmented Reality capabilities and LiDAR built-in.
The iPad has become a serious desktop alternative, with the advantage of being extremely thin and portable. Similarly, the iPhone, while not sharing the desktop class processor, offers 95% of all the other capabilities of the iPad in that important, pocketable small form factor.
Soon everyone will be able to create reality models and send them to each other, documenting as-built conditions on site, flagging up construction issues, or capturing existing buildings for redesign.
There are still some limitations which hold these devices back and that's the operating system's (iOS) limitation of only allowing each application to access a set amount of memory. Over time, this has gone from 2 GB to 3 GB, to 5 GB and, with the latest version (iPadOS 15) apps can now access 12 GB as a maximum.
Memory limits have existed since the first version of the iPhone and iOS, and still remain despite having the M1 processor, but they are increasing with each major operating system update. The eco system of professional apps previously developed have therefore tended to be cut down or feature limited. As I write this on Word for the iPad, the paucity of desktop features is immediately obvious and follows on for Excel, Adobe Photoshop and video editing applications etc.
With iOS 15 being relatively new, the serious increase in addressable memory will assist software firms in adding full-feature capabilities to their professional iPad applications, as well as handle large data sets.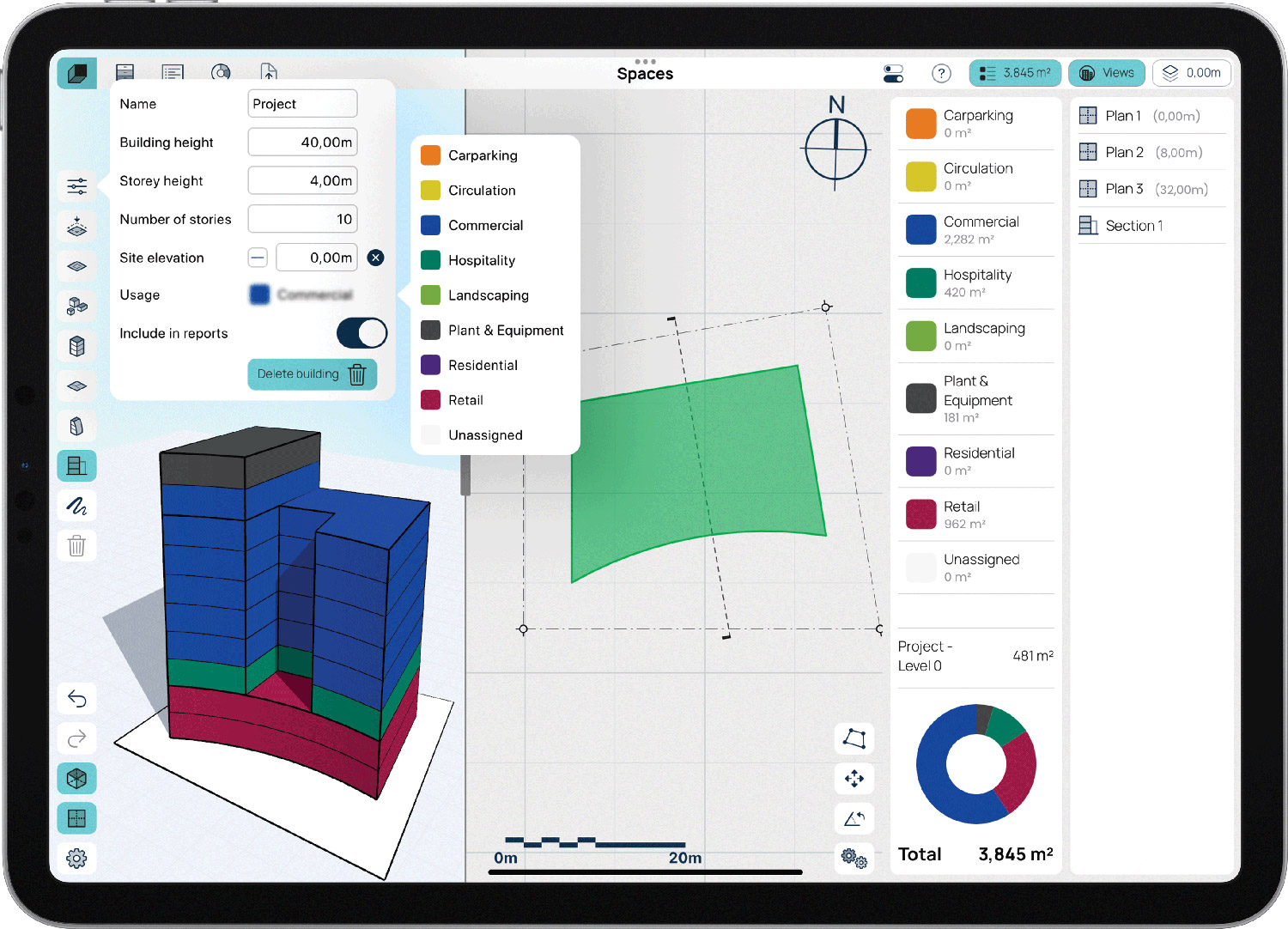 AEC tools
There are a number of professional AEC-focused tools already available for iOS and an increasing number for iPadOS. Historically, the vast majority have been for viewing and markup of drawings, as a consumption device on site – Autodesk BIM 360, Procore and PlanGrid, for example. These are dedicated apps with limited tools, versus accessing these SaaS platforms directly via the web, which can easily be done by using Safari or Google Chrome iPad applications.
Many of these dedicated applications have seen a lack of investment since their introduction, as developing once for the browser makes more sense than maintaining an iOS app. They were created when the addressable memory via the operating system was just 3 – 4 GB. The negative comments left on the Apple App Store for the last generation of iOS AEC applications are a testament to the frustration of having cut down feature sets and the risk of crashing while getting near the memory limits of iOS.
For many large dataset applications, cloud and streaming has helped to circumnavigate the memory limitation, Archicad's BIMx eXplorer is good a case in point, using a connection to large datasets on Microsoft Azure servers. And here, the arrival of 5G, providing a data rate of 10Gbps (10 to 100x speed improvement over 4G and 4.5G networks), also opens mobile devices up as the streaming of data become more common, but we are still in the early days of its roll out.
Undoubtedly the software delivery landscape is changing, as so many developers are looking at browsers as their delivery mechanism for SaaS business models, which iPads are perfectly adept at, as well as running dedicated apps.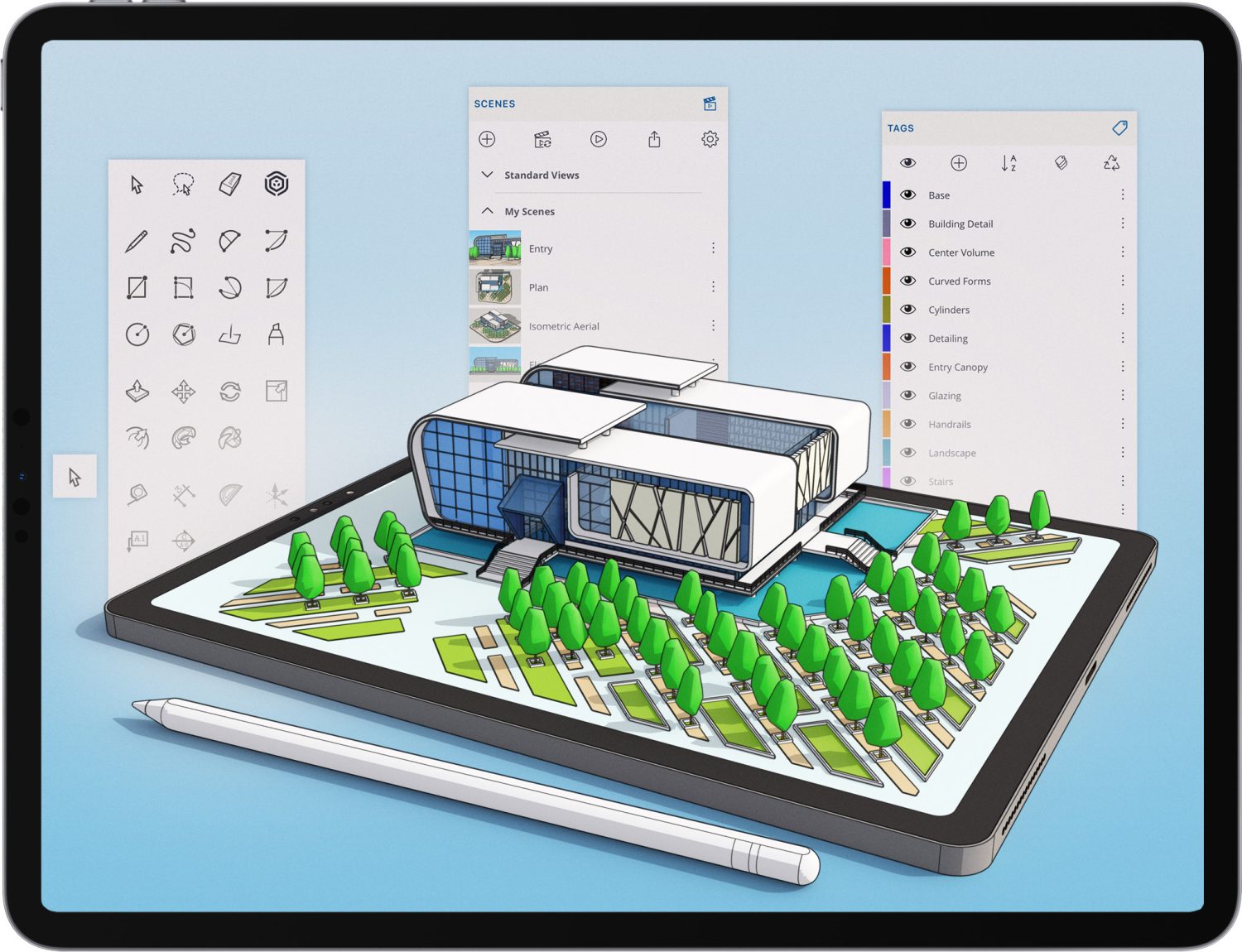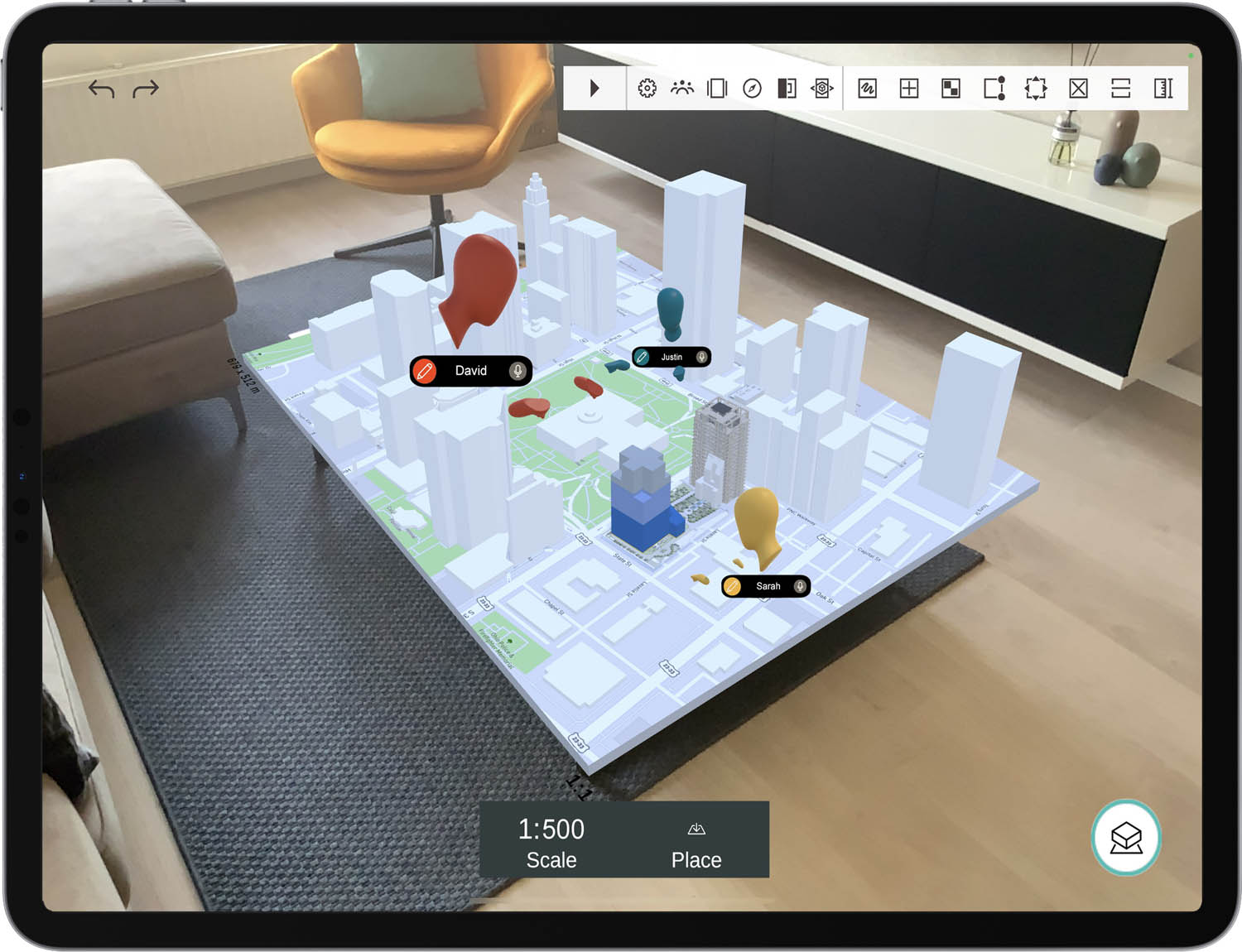 App renaissance
Over the last year we have noticed an increasing number of AEC software developers targeting both iOS and iPadOS with new applications. Perhaps the most significant is Trimble with its dedicated, written from the ground up, version of the highly popular SketchUp modeller (see page 22). It includes almost all of the features of the desktop version, and can be used with touch, Apple Pencil or mouse and keyboard.
Spaces from Cerulean labs (read our review) is another conceptual design application created specifically for the iPad (with Apple Pencil).
It seems the reason for these applications appearing now is the combination of Pencil, plus power, portability and the iPad's increased addressable memory for applications. In a world where things are becoming increasingly cloud-driven, and the working environment more flexible, designers are looking for devices which allow them to work 'whenever inspiration strikes', as Trimble points out in its SketchUp for iPad marketing. Added to this, there is also the fact that AEC conceptual design tools have still to be perfected.
SketchUp for iPad and Spaces follow on from other exemplary iPad applications for AEC professionals, such as the collaborative massing application from Arkio (read our review), BIM review and analysis tool Revizto and Ares Commander, Graebert's DWG-based 2D drafting tool.
Then there's a whole smorgasbord of AR applications for the iPad that either place your as-designed BIM model context on site, or provide a window into your design from the comfort of the meeting room. These include Unity Reflect, Gamma AR, ARki and many others.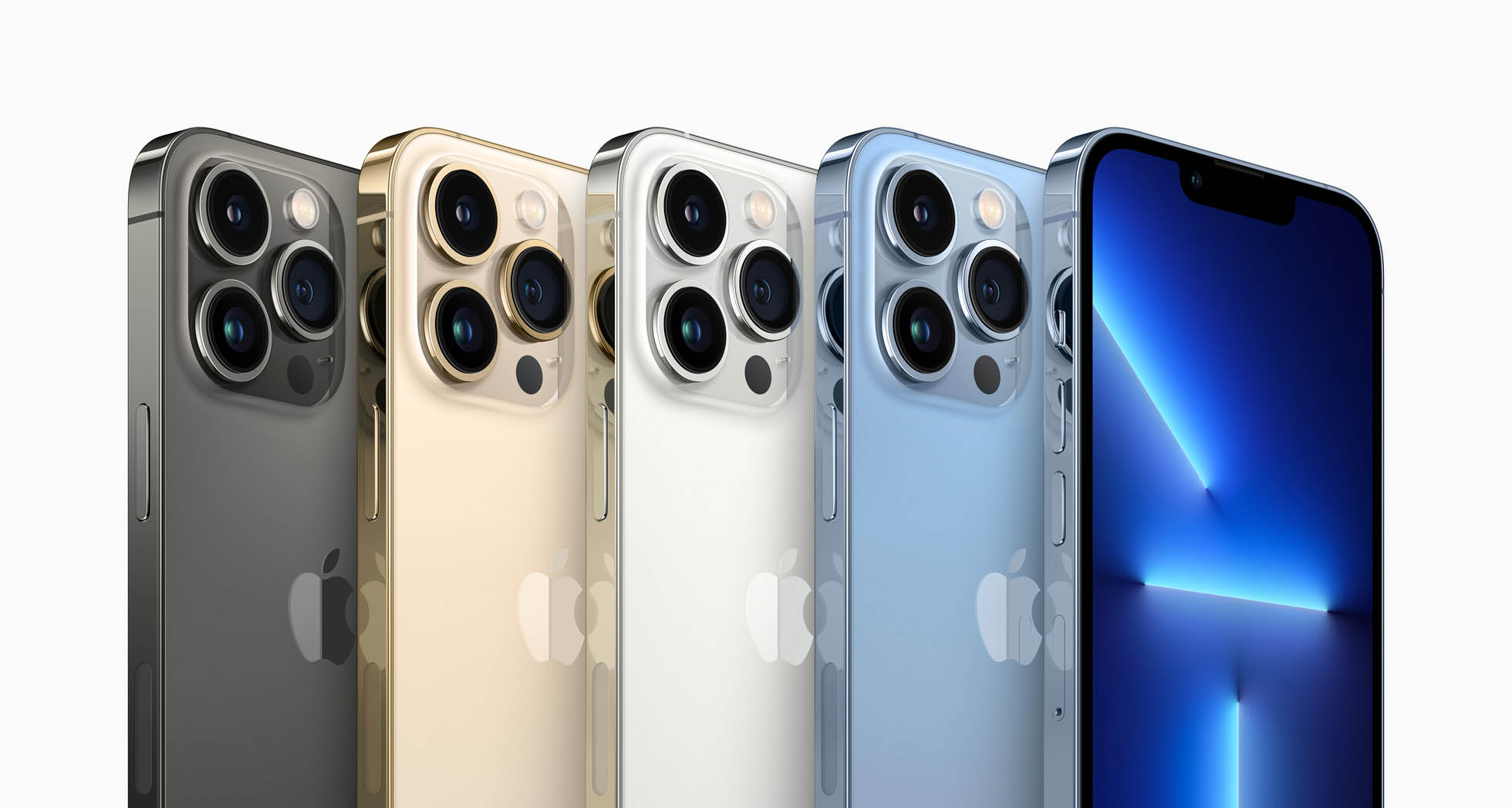 Reality Capture
Arguably the biggest new developments for the iPad and iPhone are coming in reality capture. Apple recently added a structured light sensor to its 'Pro' grade iPhone and iPad. While low in resolution, it has the potential to put a LiDAR enabled device into the hands of every construction worker or architect.
When combined with advances in photogrammetry, that's taking photographs and videos and turning them into 3D models, soon everyone will be able to create reality models and send them to each other, documenting as-built conditions on site, flagging up construction issues, or capturing existing buildings for redesign.
There are many commercial apps designed specifically to take advantage of the LiDAR sensor on the iPad and iPhone for AEC workflows. This includes SiteScape, which can scan multiple rooms and stitch each point cloud together. Others include Canvas, Matterport, Roomscan LiDAR, OpenSpace 3D Scans and Zappcha.
Then there are those that do a similar job with photogrammetry, including Bentley Systems ContextCapture Mobile, PIX4DCatch, and RealityScan from Epic Games.
Everypoint, with its suite of tools for developers, uses a fusion of LiDAR and photogrammetry to create accurate reality capture models.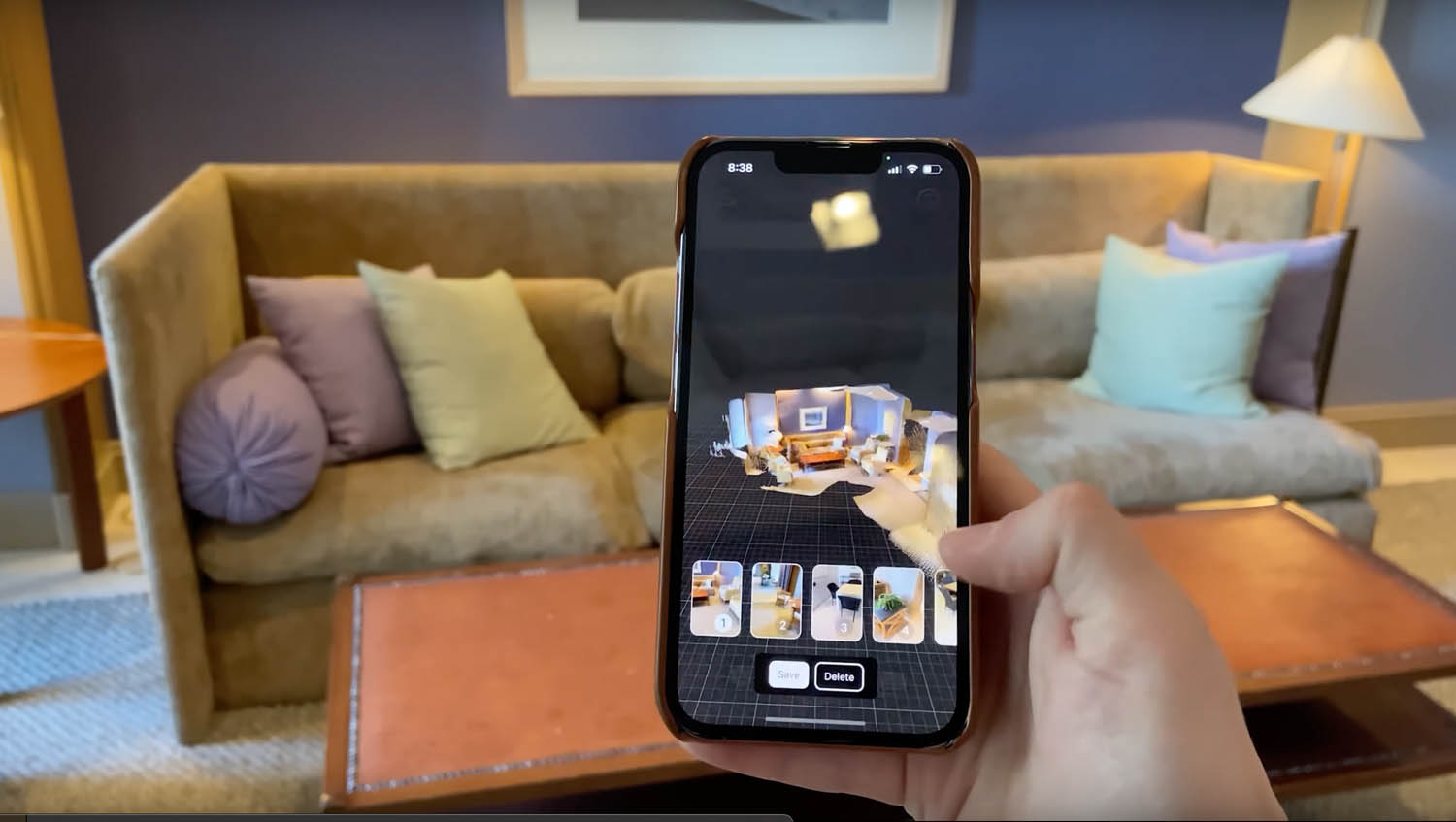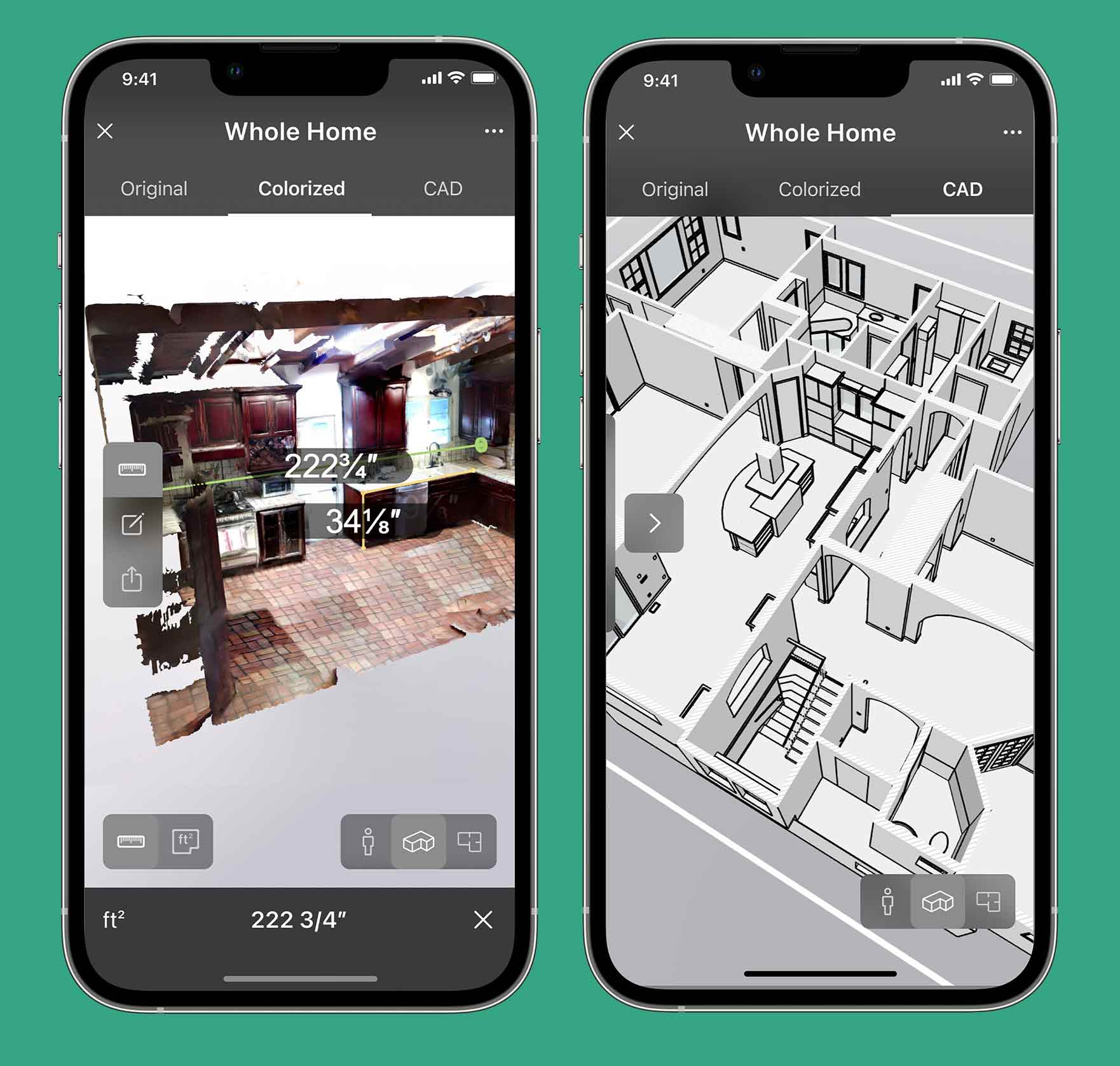 Conclusion
Why Apple and why now? The raw power now available in a mobile device is really quite incredible. Combine this with portability and a LiDAR sensor, and you end up with some magic. While there are obviously other phones out there and other operating systems, such as Android, the main benefit of the Apple ecosystem is that the phones are a known and predictable entity.
Unfortunately for Android, with so many developers and so many phones, using different optics and configurations, developers have a nightmare quality testing and checking for every target device. This is especially true for photogrammetry.
We are two years on from Apple adding in LiDAR to its mobile devices, but only now are we seeing the potential revolution they could bring to the AEC industry. For years we have been crying out for low cost, accurate methods for verification on site. The answer will be the phone in your pocket.
The post Apple iOS builds foundations in AEC appeared first on AEC Magazine.
Powered by WPeMatico